I attended the launch of Tsubaki's Out-of-Bath series and a new skincare brand called Senka at Butter Studio a while ago, thanks to DSPG and Shiseido.
I have always loved Tsubaki's affordable yet effective haircare range and it is not hard to see why Tsubaki has been the leading haircare brand in Japan since its inception in 2006.
Tsubaki haircare products contain 3 key ingredients, namely:
1) Melanin Hole Repair Ingredient (Arginine) - This repairs the melanin holes and restores the inner structure of our hair fibre to bring out the shine and lustre in our tresses.

2) UV Protective Ingredient - UV protection is essential for lustrous locks as it protects hair from UV radiation and damage.
3) Selected Camellia Oil - An oil that is known for its ability to repair hair cuticles while retaining shine and elasticity. It also softens and smoothens our hair fibres.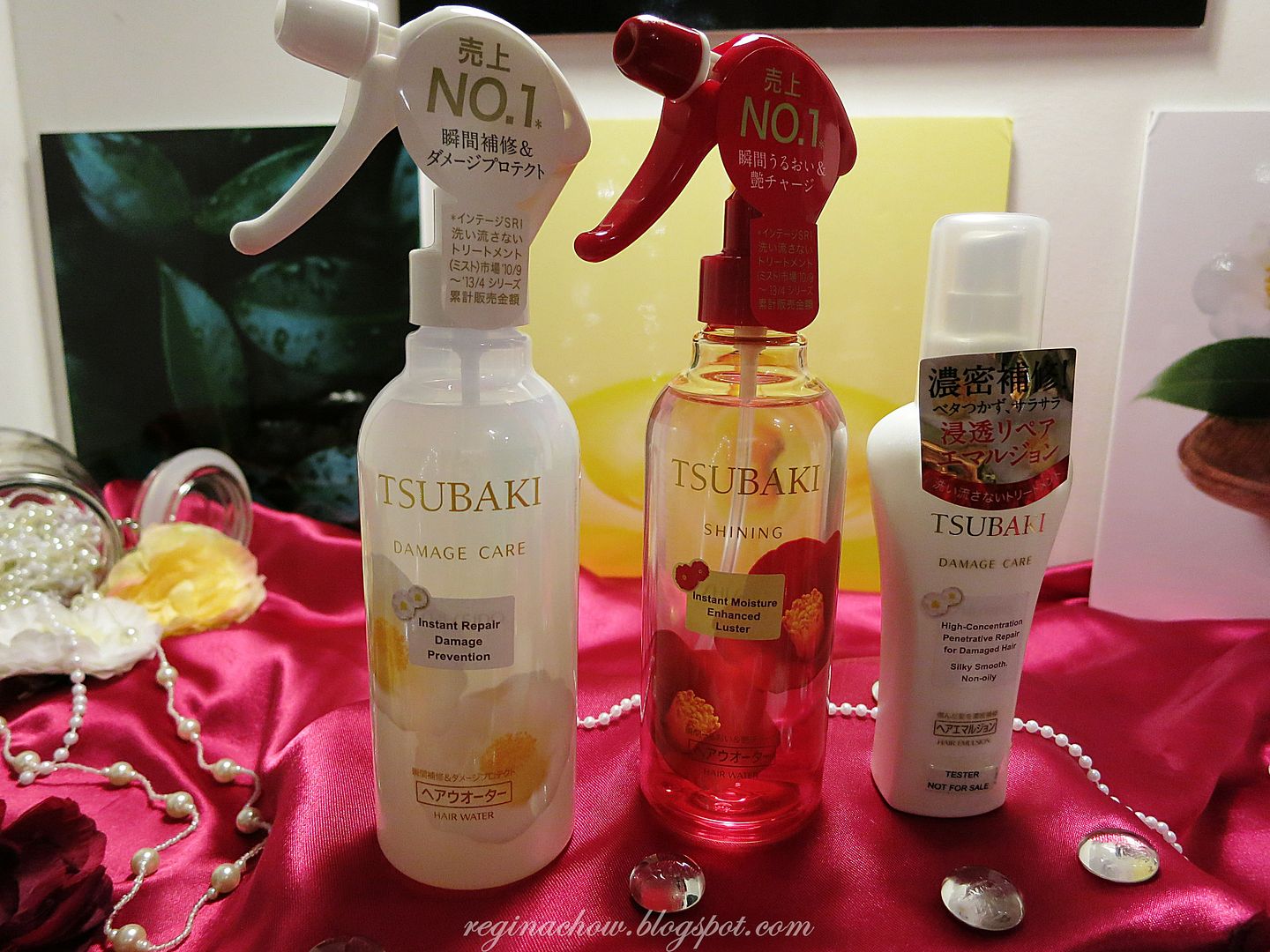 (L-R): Damage Care Hair Water, Shining Hair Water and Damage Care Hair Emulsion
Besides its In-Bath series (i.e. shampoos and conditioners), Tsubaki has also launched its latest Out-of-Bath series in Jan 2014 to provide a comprehensive range of haircare products for all ladies. The Out-of-Bath series includes the Damage Care Hair Water (S$13.50), Shining Hair Water (S$16.90) and Damage Care Hair Emulsion (S$16.90).
I have a soft spot for hair products and was absolutely thrilled to have had the privilege of trying out both the Tsubaki Damage Care Hair Emulsion and Shining Hair Water. I have been using both products together for close to a month now.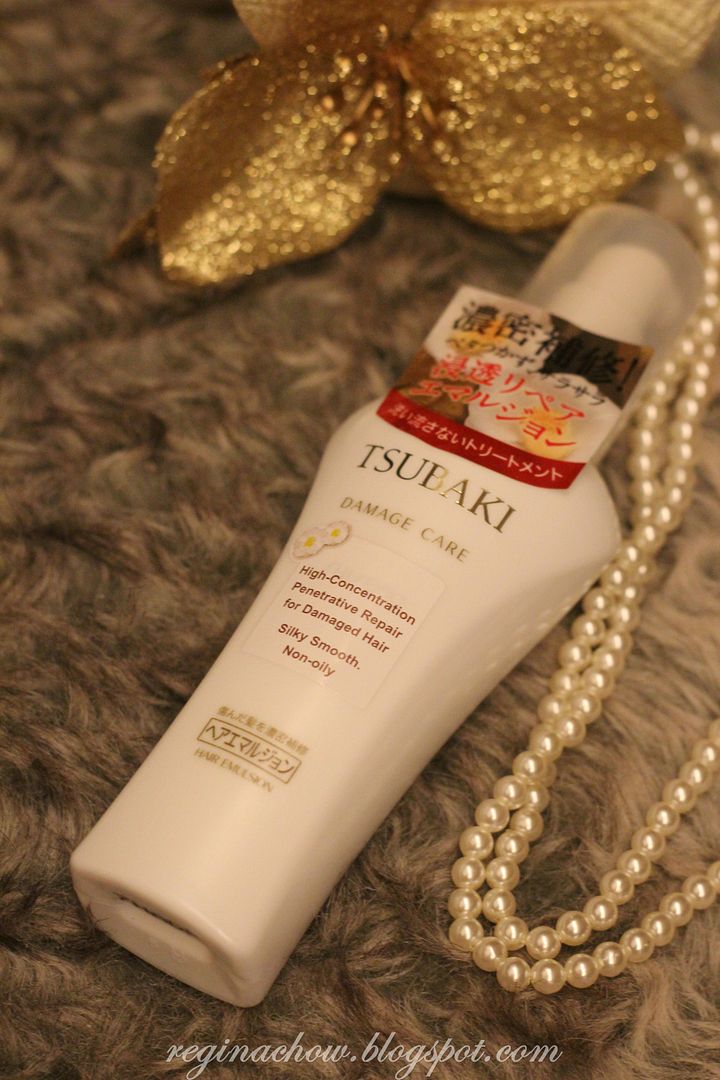 Tsubaki's Damage Care Hair Emulsion is a leave-in treatment that boasts a new, highly penetrative boost formula. It consists of 5 ingredients, including selected Camellia oil, Tsubaki Amino, Camellia Repair Butter, Melanin Hole Repair Ingredient and Penetrative Essence. This new formula ensures that all the goodness of these 5 ingredients penetrate deep into the core of each hair shaft to repair and restore damaged hair.
I have been using this product on both semi-dry and dry hair. What I love most about it is that it doesn't leave a sticky residue and it instantly tames any frizziness.
How To Use This Product Effectively?
The trick to applying this hair emulsion is to pump an appropriate amount onto your palm (2-3 pumps for my long hair) and then spread them all over your palm before gently rubbing the product into your hair ends. If you have soft and fine hair like me, you should start applying the product from the hair ends and gradually work upwards towards the middle section of your hair. To prevent flat hair, I prefer to apply less product nearer the roots.
As its name suggests, Tsubaki's Shining Hair Water instantly adds shine and replenishes moisture to the hair. I spray this on after using the Damage Care Emulsion everyday, before heading out under the sun because it protects my hair against UV exposure.
What I love about this product is its lingering floral scent which makes your hair smell absolutely divine. Like the other products in the Tsubaki series, Selected Camellia Oil is a key ingredient in this product and is supplemented by Camellia Leaf Essence and Hyaluronic Derivative to seal in moisture, leaving your locks smooth, sleek and manageable.
Senka is another Japanese brand that we were introduced to during the launch. Created only recently in the autumn of 2010, Senka is an up and coming brand that focuses on simple yet effective skincare. It aims to develop safe, allergy-free products that are environmentally friendly.
Senka has a comprehensive range of skincare that covers 4 essential aspects, namely Cleansing, Moisturizing, Whitening and Sunscreen. As you can see from the picture below, there are 5 different types of cleansers to cater to various skin types.
The moisturizing range features a lightweight lotion that is just as nourishing as a rich moisturizer, while the whitening range contains Vitamin C to prevent the appearance of sunspots. Senka's sunscreen is made using 100% mineral water from Mount Fuji and does not leave any sticky after-feel.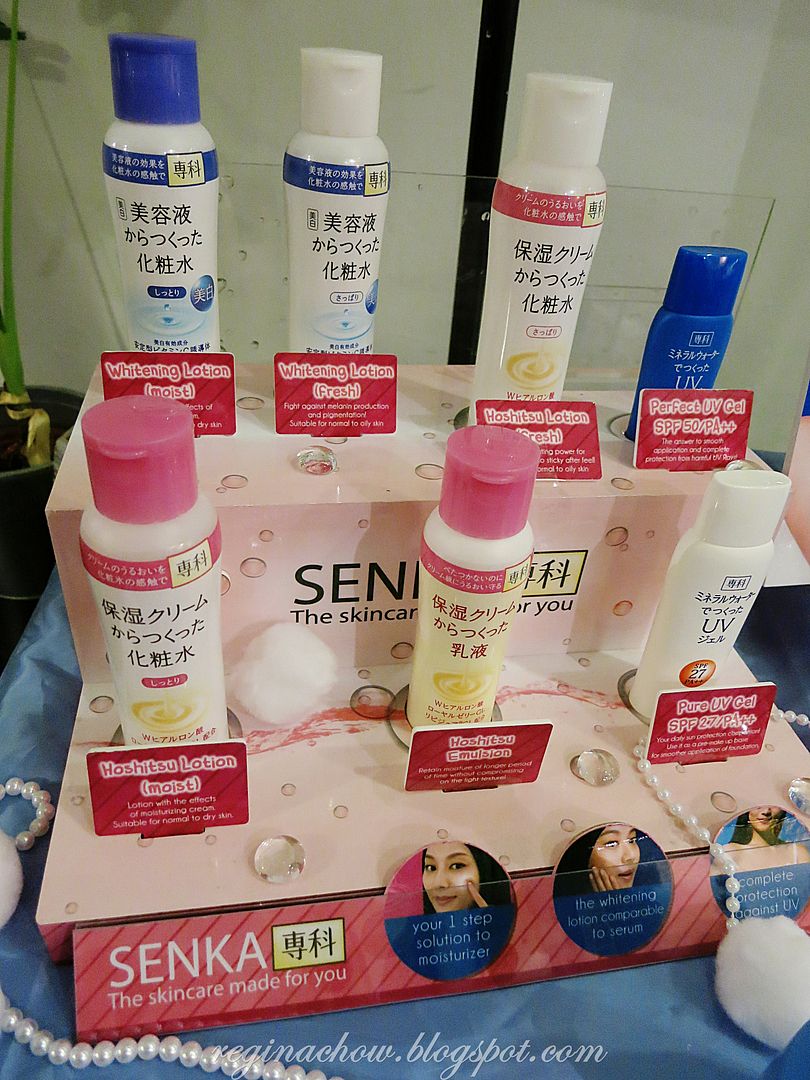 Speedy Perfect Whip (S$13.90) is the latest member in Senka's range of cleansers. I have come across several cleansers that require the use of a sponge to create thick, foamy lather, which I found rather inconvenient. Now, with Speedy Perfect Whip, a quick pump is all you need to dispense a creamy rich lather that covers your skin in a "lather cushion". A fuss-free cleanser like this is perfect for those of us who have a busy schedule!
Developed to be gentle on the skin without compromising on efficacy, the Speedy Perfect Whip cleanses very well, removing oil and dirt effortlessly, while retaining the skin's moisture. All I need is two pumps to deliver a rich, luxurious foam that cleanses effectively. I especially adore its lovely rose scent, which makes the cleansing process all the more enjoyable. This is definitely one cleanser that I would repurchase.
Besides the Speedy Perfect Whip, I also received a few other skincare samples from Senka. Having experienced the excellent results delivered by Senka's mousse cleanser, I can't wait to try out all the other products in the skincare range!
Tsubaki's Out of Bath Series and Senka Skincare are now available at selected Watsons stores!