I was invited to try out the Vichy Normaderm range recently and I was so excited when the products arrived in a classic vintage style tin box. The packaging alone was enough to take my breath away and make me fall head over heels in love. I absolutely adore how it exudes elegance with a touch of quirkiness.
Within the box was a thoughtful, personalized message from the Vichy team, all wrapped up in a pretty green ribbon. Honestly, I was pretty much sold before I even tried the products.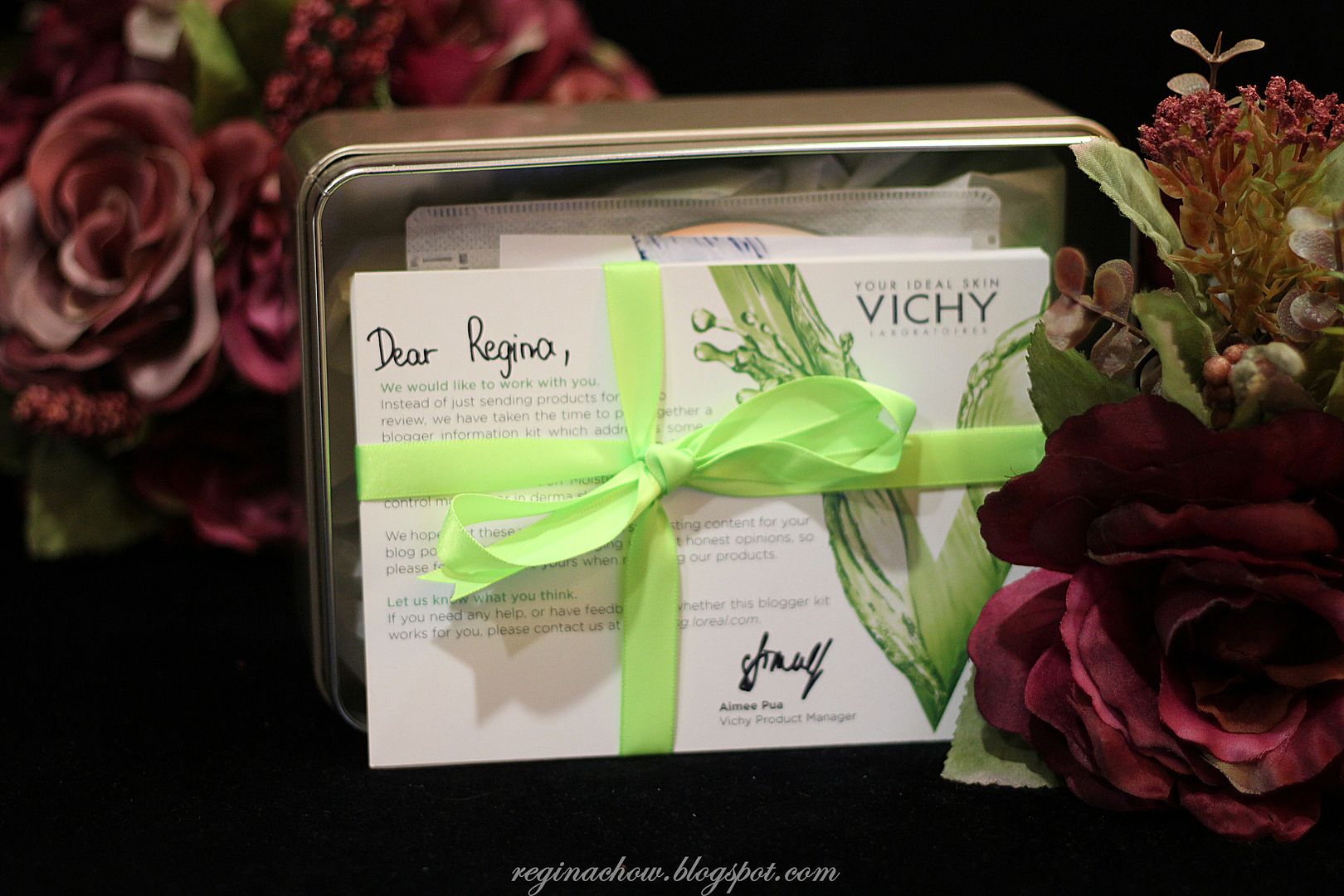 Vichy's skincare range is especially popular among people with sensitive skin as their products are hypoallergenic, paraben free and alcohol free.
All Vichy products also contain Vichy Thermal Spa Water to soothe intolerant and sensitive skin, protect the skin against ageing and free radicals from the sun, as well as regenerate skin cells by stimulating cell metabolism and epidermal repair.
I had a bout of eczema about 2 months back and although only the skin on body was affected, it served as a wake-up call for me to start paying attention to the products that I put on my skin, including my face. Since then, I have been trying to cut down on products with too many chemicals in them and I was very grateful that Vichy's Normaderm range came just in time.
The Vichy Normaderm range is specially developed for imperfection-prone skin.
While I generally don't have blemish prone skin, I do experience a greater incidence of whiteheads and pimples during that time of the month. When I travel, my skin also tends to secrete more oil due to climate and environmental changes. While we tend to think that pimple cream alone is sufficient for blemish-prone skin, the truth is, pimple creams are not formulated to treat excess sebum production, which is the root of the problem. That is why a comprehensive skincare regime that consists of cleansing, toning, moisturizing and a spot treatment is absolutely essential to regulate oil production and rebalance our skin.
1) Deep Cleansing Purifying Gel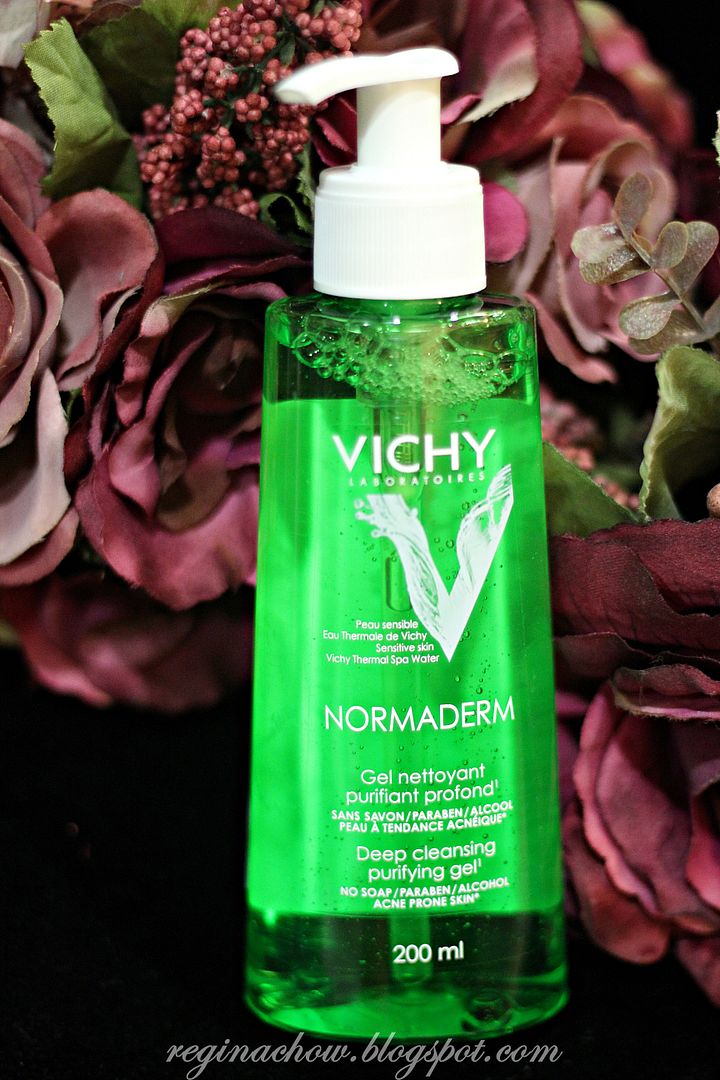 The Deep Cleansing Purifying Gel cleanses well without drying out my skin. A little goes a long way and one pump is all I need. I also like the refreshing fruity scent, which is a wonderful pick-me-up for those early weekday mornings.
2) Vichy Normaderm Imperfection Prone Skin Lotion
I used to think that toning is a redundant step in my skincare routine, but I have come to realize that it is one of the most important steps to maintaining healthy, glowing skin.
Toning removes remaining traces of make-up and prevents the build-up of dead skin cells on your skin surface. It also tightens your pores and refines your skin texture. More importantly, it prepares your skin for better absorption of the nutrients in your skincare products. My skin feels much cleaner after using the Vichy Normaderm Imperfection Prone Skin Lotion. It contains salicylic acid to gently lift impurities and the best part is, it does not dry out your skin as Vichy products are all alcohol-free.
3) Vichy Normaderm Tri-Activ Anti-imperfection Hydrating Care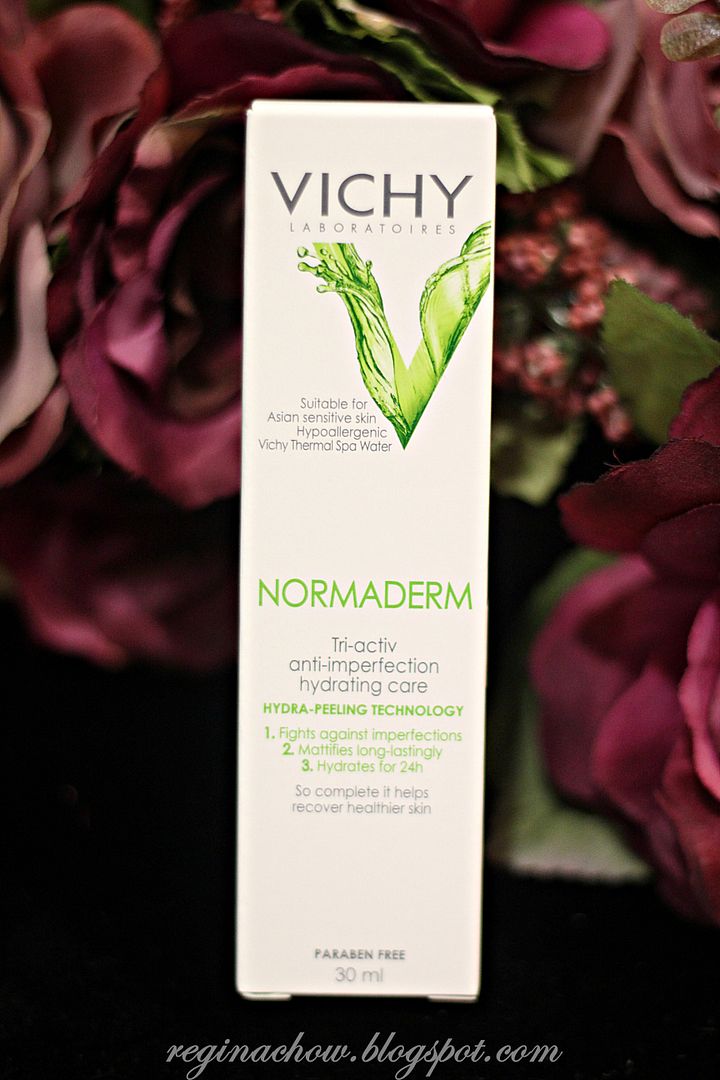 One common misconception is that those of us with oily skin do not require moisturizer, but did you know that excess oil secretion, which causes clogged pores, is actually a result of dehydrated skin? A good moisturizer is the key to restoring your skin's balance and treating imperfections.
Vichy Normaderm's Tri-active Imperfection Hydrating Care does just that. It is the no. 1 oil control moisturizer in the derma skincare category and it is not hard to see why. Besides it hydrating properties, this moisturizer also fights against 6 different skin imperfections, including blemishes, pores, redness, shine, pimples and uneven complexion! I really love the lightweight texture as it glides onto your skin effortlessly and is instantly absorbed. It is amazing how your skin can feel hydrated yet matte at the same time.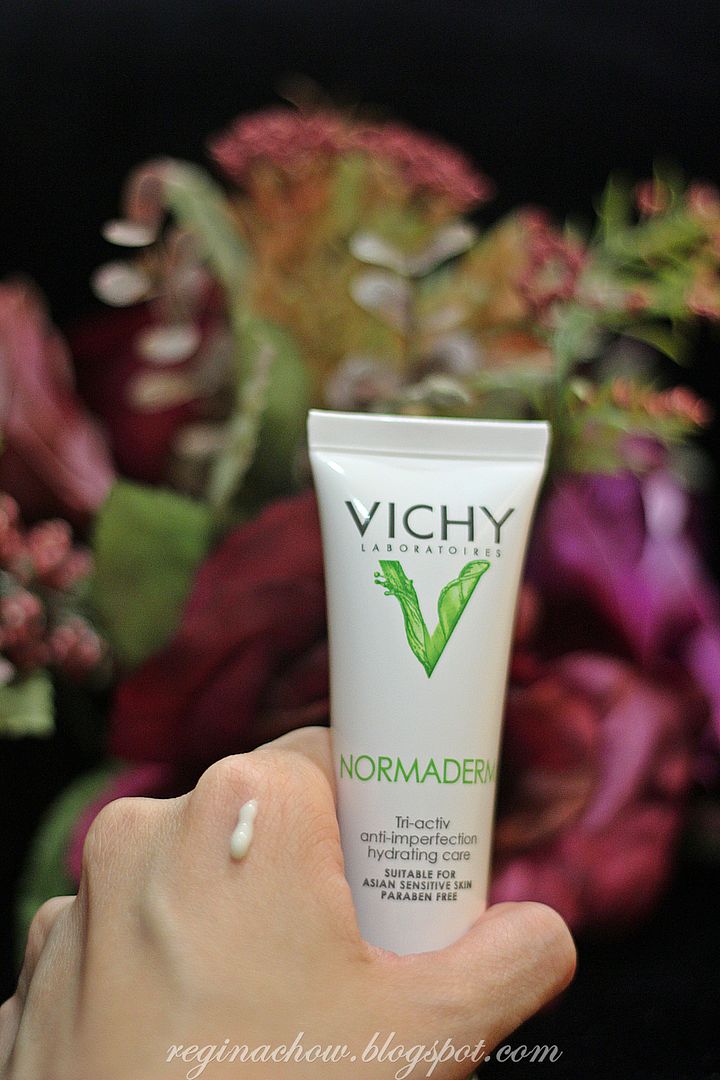 4) Vichy Normaderm Hyaluspot
I am always tempted to squeeze my whiteheads and pimples but I have learnt through the hard way that touching your pimples with your fingers only transfers more bacteria to your skin, which further aggravates pimples. Now, I try my best to keep my hands away from my face!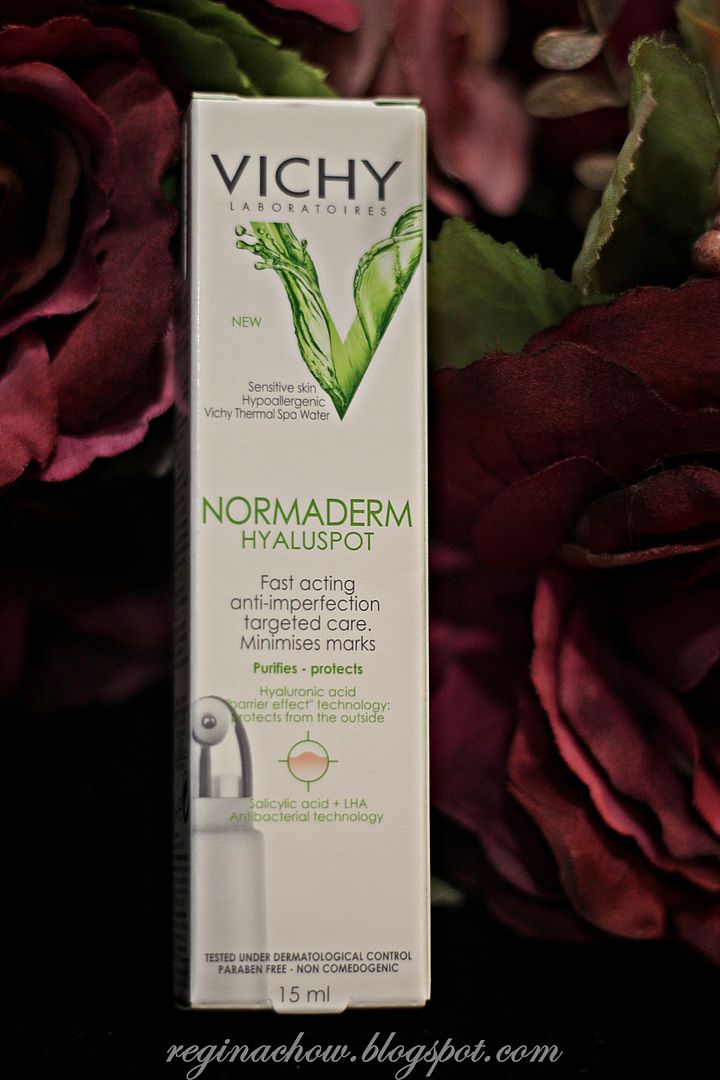 Cleansing alone is insufficient to prevent pimples from bacteria contamination

. It is also important to isolate pimples on the surface as well. To combat pimples effectively,

Vichy Normaderm Hyaluspot combines Hyaluronic acid with salicylic acid and LHA.
I know that Hyaluronic acid is a natural skin moisturizer, but I only just found out that it has anti-inflammatory and healing properties too. Not only does it leave an invisible film on your skin, it also isolates the pimple from bacterial contamination and eliminates 99.9% of the bacteria that causes pimples in just 2 hours!
This spot treatment comes in a gel form and it does not cause my skin to peel like most of the other pimple treatments that I have used. I use it on little bumps on my forehead and they miraculously clear up overnight without a trace. For embedded pimples however, more time is required for visible results, but always remember that patience and discipline is all you need for those nasty zits to disappear.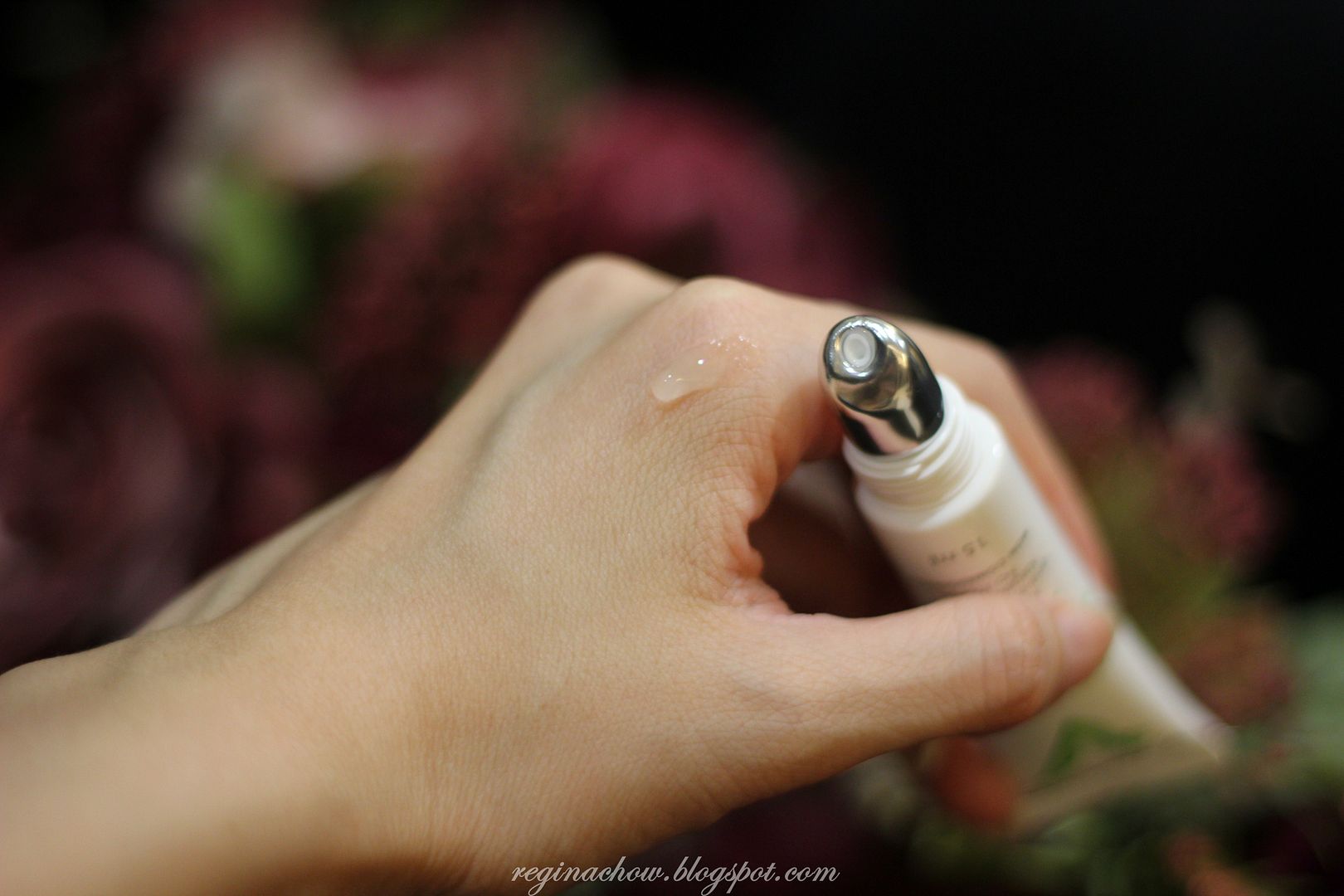 I would highly recommend the Vichy Normaderm range to those of you who have sensitive, blemish-prone skin.

I have been using the Normaderm range for only a week now but I can already see that my whiteheads have reduced and my pores are less clogged. Many of my friends swear by Vichy products and now, I finally understand why!